Archive for the 'Tie Dye T-Shirts' Category
By senoff.michael@gmail.com On June 10, 2011
No Comments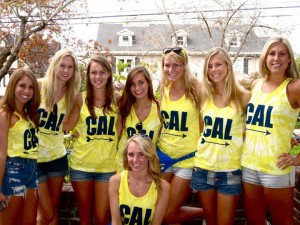 Here's a letter I wrote to Mrs. Smith, a camp purchasing director who was shopping price for 600 youth camp t-shirts.
She found me at my web site http://www.calitiedye.com
You may not know this but I've been slowly getting back into the Tie Dye t-shirt business for fun and profit.
There's a marketing lesson contained in this letter about price that I would encourage you to use for your business.
Dear Mrs. Smith,
Let's both agree now without fighting again that you're NOT in the tie dye t-shirt business. Therefore, how could you possibly understand my labor involved in the hand tie dying of 600 youth camp shirts?
I do understand you want the lowest price. But if price is your only concern, you can stop reading. Don't dare compare what I do with Jane, your screen printer.
I'm not the lowest price t-shirt business. If you want low price, shop at Wal-Mart, buy a Yugo, or go to a second hand store. There are other shirts you can get for a lower price. You know this, but you still may try to beat me down on price, discount my work and compare my work unfairly.
May I explain what you get with Cali Camp Shirts so you'll fully appreciate that you're not just getting another imprinted camp shirt?
Your campers are getting individual works of wearable art.
Art branding your camp's name throughout the local communities of 600 campers.
Cali Camp Shirts will be seen by the Mothers and the Fathers and the friends and the neighbors of children who may be in the market for a summer camp.
Your camp!
Cali Camp Shirts do this in a way that's different from a plain solid color camp shirt.
It's impossible NOT to look at and NOTICE a Cali Camp Shirt.
Our vibrant rainbow of colors and patterns command attention to your camp.
And before you say that you can find Cali Camp Shirts anywhere, I want you to know that Cali Camp Shirt are different from other Tie Dye imposters.
These are not the fake ones, made to look like tie dye shirts.
But the most important reason you need to understand is you'll have 600 Cali Camp Shirts advertising your camp.
And if you go cheap and ask your young campers to wear with pride an average looking camp shirt, your camp's name will not be seen.
Ugly Camp Shirts Die Young . . .
What does it takes to make a Cali Camp Shirts for your camper?
Compare this process with the plain imprinted t-shirts you got last year from plain Jane's Screen-printing down on Main and Third.
1.  I buy the t-shirts blank or you can send me your shirts already printed from Jane's Screen-printing.
2.  I wash each shirt with a detergent to remove the factory chemicals from the cotton fabric.
3.  I dry the shirts in an electric 220 amp Kenmore dryer. For some reason the Kenmore brand works best.
4.  I wash the shirts again to soften and remove remaining chemicals from the fabric.
5.  I dry each shirt again, but this time I use a dryer sheet to further soften and sent your camper's shirts.
6.  Each shirt is then pre-soaked in water with a PH changing agent called (DSA) dense soda ash.
(DSA is safe and it changes the PH of the water so the dye will bond permanently to the shirts)
7.  Each garment is soaked in this solution for up to 90 minutes, depending on dye colors used.
8.  Each shirt is squeezed out by hand. (Most other tie dyers get this part wrong. They squeeze too much water out. This step is critical to the white contrasting lines and the way the dye bonds to the garment.)
9.  Each shirt is folded wet. (This is very hard to do right and takes skill, training and many hours of practice.)
10.  Each shirt is tied and rubber banded. (Very labor intensive process taking up tons of time.)
11.  We heat our dyes and mix them with urea, another PH changing agent before we apply dye to the shirts.
12.  Dyes are mixed to exact specifications and applied to each shirt one by one by hand with a special applicator bottle. Precession application and an artist's steady hand needed to get this part right.
13.  Each shirt is sealed in and air tight cocoon with a special rapper material to keep the sun and air from entering.
14.  We let each shirt cure and set for 24 hours, depending on the amount of colors used on the shirt.
15.  Each shirt is then unsealed from its cocoon.
16.  Each shirt is rinsed under an ice cold water solution until extra dye is washed out.
17.  Then each shirt is delicately washed with a special agent that keeps the excess dye from attaching to the white areas of the shirt keeping the colors      bright and vibrant. There's nothing worse than muddy looking dye stains.
18.  Then the garments are fluffed and folded by hand.
And that's why offering a Cali Tie Dye Camp Shirt to your campers is different and yes, more expensive than the old shirts you've been offering your campers all of these years.
It may be time you put your camper's pride before price if you expect them to wear your camp brand this summer.
If you change your mind about the price, call Michael at 858-274-7851 e-mail Michael@CaliTieDye.com or contact me at www.CaliTieDye.com
PS. If you know any camp directors who are looking for a way to brand their camp this summer, please send them my way. They can call me direct at 858-274-7851
Or they can check out some of my work at
http://www.CaliTieDye.com
About the Author
Michael Senoff
I've spent the last five years of my life creating fascinating
streaming audio interviews with big name marketers and getting them
to spill the beans on how they got rich and famous and I'm giving
most of my life's work away free.
These interviews below are designed to be superior to any lecture
out there. They're more informative, natural, and the information
is more dynamic and dense.
The sheer scope of marketing and business growth information below
is mind blowing – – Start clicking and get ready to discover this
amazing gold mine!
Michael Senoff is the CEO and publisher of
http://www.myfirsthmaclient.com
The world's leading free digital consulting audio business library.
Michael is an experienced Internet marketer and talk show host and
a popular professional interviewer. Michael has taught 100% online
around the country & around the world to more than 50,000 students.
His over-the-top online audio interview web site
http://www.hardtofindseminars.com is listed in the top 1% of most
visited web sites in the world.
Michael has also worked as a coach and adviser to other famous
marketing consultants.
Michael is a husband and father of two young boys in Southern
California. He has a successful audio publishing business. Michael
is originally from Atlanta Georgia and is now based in San Diego,
California. Michael works with small to medium sized companies on
four different continents.
He is the author of the book: "TALK YOURSELF RICH": (86 of the most
revealing, proprietary secrets on the subject of how to make more
money with audio interviews and the soon to be released sequel:
AUDIO MARKETING SECRETS. How To Make Your Own Information Product
Using Audio Interviews.  Michael may be contacted at
Michael@michaelsenoff.com or at (858) 274-7851
Michael Senoff