Archive for the 'Personal Finance Issues' Category
By senoff.michael@gmail.com On October 8, 2012
No Comments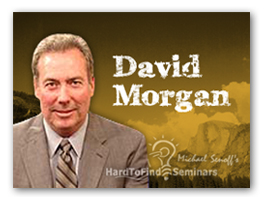 Here's something a bit different.
http://www.hardtofindseminars.com/David_Morgan_Interview.htm
It's an interview with David Morgan, a gold and silver expert.
And if you like money, I think it's something you'll find interesting.
The title of this interview is called . . .
How To Make Sure Your Finances Are As Good As Gold No Matter What Happens To The Economy
Back in the early days of the United States, a $20 gold piece would buy a man's suit – along with a shirt, tie, hat, shoes and umbrella to go with it.
That same gold piece today buys that same amount, but if you paid in paper – $20 wouldn't even come close.
That's because precious metals (like gold) maintain their purchasing power and are one of the strongest investments you can make in any economy.
And in this audio, you'll hear all about it from precious metals expert, David Morgan.
According to David, very few people realize just how bad the recent financial collapse was on the United States.
There are clear and definite signs that countries are losing faith in the U.S. dollar, and in this audio, you'll hear what those signs are and the steps you can take to make sure you're safe.
You'll Also Hear…
• What exactly is the fiat money system we use today? How is our money backed up, and what it all means for you
•  Why David thinks the Chinese have been secretly buying up gold – and what he thinks they plan to do next
•  A quick "idiot's guide" to the economy – along with a look at the only options we have for getting out of this mess
•  The scary truth about the Federal Reserve – the shady way it was established, how the U.S. treasury has to borrow money from it, all the issues surrounding it, and how it all affects you
•  Complex financial concepts broken down into layman terms such as: inflation, deflation, hyper-inflation, derivatives, currency debasement, and more
•  Exactly when David says the United States "broke the trust" with the rest of the world, and what he predicts will happen next
•  The one "quick-read" book David says will give you 90% of his precious metals knowledge in about an hour
According to David, this is the only time in history that there isn't a country with currency that's backed by precious metals.
We may be in uncharted waters right now, but there are ways you can protect yourself and create stability in your own finances, even as the dollar continues to fall. And in this audio, you'll hear all about them.
Go to,
http://www.hardtofindseminars.com/David_Morgan_Interview.htm
About the Author
Michael Senoff
I've spent the last five years of my life creating fascinating streaming audio interviews with big name marketers and getting them to spill the beans on how they got rich and famous and I'm giving most of my life's work away free.
These interviews below are designed to be superior to any lecture out there.
They're more informative, natural, and the information is more dynamic and dense.
The sheer scope of marketing and business growth information below is mind blowing.
Start clicking and get ready to discover this amazing gold mine!
Michael Senoff is the CEO and publisher of http://www.hardtofindseminars.com and http://www.myfirsthmaclient.com
The world's leading free digital consulting audio business library.
Michael is an experienced Internet marketer and talk show host and a popular professional interviewer.
Michael has taught 100% online around the country & around the world to more than 50,000 students.
His over-the-top online audio interview web site http://www.hardtofindseminars.com is listed in the top 1% of most visited web sites in the world.
Michael has also worked as a coach and adviser to other famous marketing consultants.
Michael is a husband and father of two young boys in Southern California.
He has a successful audio publishing business.
By senoff.michael@gmail.com On July 18, 2008
No Comments
Although most of us would love to become millionaires overnight, realistically speaking, that's probably not going to happen. But becoming a millionaire in 15 years is completely doable if you follow JD's advice on building a sizeable savings. And in this quick audio, you'll be introduced to the key concepts that will help you do just that.
Finding the money is an important part because, as we all know, you'll need to find money in your budget to start saving money and you'll also need to know where to put that savings in order to maximize its growth.
So this interview will give you a clear understanding of how your money can work for you. You'll hear the basics about creating a savings goal, distinguishing good versus bad debt, determining the benefits of saving money before and after taxes, and much more.
For more information, go to http://www.hardtofindseminars.com.