Archive for the 'Health & Wellness' Category
By senoff.michael@gmail.com On June 25, 2015
No Comments
#1 Fast
#2 Frozen
#3 Take-out
#4 Delivered.
If this is how you eat today, I want you to listen to this interview.
It may just change your life.
It's with Rip Esselstyn.
It's called the Firefighters' Diet That Could Ignite Your Energy… And Save Your Sex Life
Rip Esselstyn is a firefighter who has seen the devastating effects of a poor diet at every shift.
He's seen heart disease, diabetes, cancer, strokes, and even 600-lb people who need help being lifted out of their own beds.
And that was one of the reasons he wrote The Engine-2 Diet.
This book was a New York Times bestselling diet book.
It incorporates the same principles many champion athletes use for energy and stamina – and does so without using any weird, where-do-I-find-these kinds of foods.
It also doesn't include any meat.
According to Rip, Americans are programmed to believe they need flesh and dairy in order to survive, when nothing is further from the truth.
So he says it's important that we wean ourselves off the "bad" while training ourselves to discover and enjoy the good.
And Rip says once you see how great you'll feel after you start eating a better diet, you won't want to go back.
And in this audio, you'll hear all about it.
You'll Also Hear . . .
• The myths and truths about protein, vegetables, trans fat, sodium, sugar and more
• How erectile dysfunction is related to diet and heart disease — and how to reverse it
• The big myth about milk – could 2% really mean 35% — and more surprising news
• The 4 things you need to concentrate on when reading labels
• 8 tips that will help you prevent most chronic Western diseases
• The truth about oil (even olive) – and a few good-tasting substitutes to use instead
According to Rip, eating healthy doesn't mean you can't enjoy your favorite foods like pizza or desserts; it just means you won't have all the guilt or sugar-crashes.
And in this audio, you'll hear how to do it.
PS. This is a good interview on diet but exercise can be even more powerful.
When you replay back, I will also send you the links to a two part audio book link to the best science base book on exercise and the brain.
Email me and I'll send you the link.
You can fly.
Michael Senoff
About the Author
I've spent the last five years of my life creating fascinating streaming audio interviews with big name marketers and getting them to spill the beans on how they got rich and famous and I'm giving most of my life's work away free.
These interviews below are designed to be superior to any lecture out there.
They're more informative, natural, and the information is more dynamic and dense.
The sheer scope of marketing and business growth information below is mind blowing.
Start clicking and get ready to discover this amazing gold mine!
Michael may be contacted at senoff.michael@gmail.com  or at (858) 692-9461
By senoff.michael@gmail.com On October 23, 2013
No Comments
Below are some transcript highlights from the video
And after you are done watching, check out the hand weights at http://www.weightedhands.com
Walking thirty minutes a day, five days a week actual reduces the rate of people becoming diabetic by over half.
People who walk are far less likely to have strokes, heart disease and hypertension.
Women who walk have a 43 percent reduction in their risk of stroke.
Walking reduces hypertension.
Your 100,000 miles of blood vessels are more supple and healthier when we walk.
You resist disease more effectively when you walk.
Walking can improve your body's ability to resist cancer and recover from cancer.
Women who walk have a twenty percent lower likelihood of getting breast cancer and a thirty-one lower risk of getting colon cancer.
Men who walk are two-thirds less likely to have a positive biopsy for prostate cancer and a sixty percent lower risk of colon cancer.
Men who do have prostate cancer who walk have a forty-six percent lower mortality rate than men with prostate cancer who don't walk.
Women with breast cancer who walk have a fifty percent reduction in the recurrence rate.
Walking in adolescents cuts the risk of breast cancer in post-menopausal women by more than sixty percent.
You enjoy better internal chemistry when you walk.
You will be less likely to catch a cold when you walk, and if you walk thirty minutes a day, five days a week you a forty-six percent shorter symptom time for your colds.
Walking has shown to reduce the cell deterioration in the brain for people who are genetically at high risk of Alzheimer's.
Walking actually increases brain health and the size of the brain for walkers over the age of sixty. Walking can have a major positive impact your depression.
Several studies have shown that walking thirty minutes a day, five days a week has had a more positive impact than some of the anti-depressant medications and has significantly increased the effectiveness of those medications.
People who walked were also significantly less likely to be depressed after a year.
Walking creates positive neuro-chemicals and it is the easiest health improvement strategy to maintain over time.
It doesn't take very much equipment to walk. We don't need to run or jog or swim to get the benefits of walking.
The human physiological need to walk is a basic need that we can meet by just walking.
Walking strengthens your heart. Walking strengthens your bones.
Walking half an hour a day has health benefits that exceed the benefits of losing twenty pounds.
In fact, an overweight person who walks can have lower health risks than a thin person who is inert.
The health risks of being inert are just becoming known, and they are considerable.
Lancet Magazine  and the National Institute of Health have all endorsed walking as one of the very best thing we can each do for ourselves.
The Harvard School of Public Health and the Mayo Clinic have saluted the benefits of walking. The medical evidence for walking is huge, and it is growing.
The very best news might be that we don't have to walk thirty minutes every day in one straight period of time.
We can break it up and still get full benefits. We can walk fifteen minutes twice a day and get the same health benefits.
Two twenty minute walks would be optimal for some people. So, planning our day around finding those two fifteen minute walk times is a lot easier than to having to find time to walk the full thirty minutes in on uninterrupted time slot.
We can be healthier and stronger and happier as people when we can walk.
We are not the strongest creatures on this planet. We're not the biggest or the fastest and we aren't the best swimmers.
We can't jump very high and we can't fly at all, but no other living creature walks as well as we do.
Walking is our gift.
Walking is our strength.
Walking makes us strong.
For more details go to http://www.weightedhands.com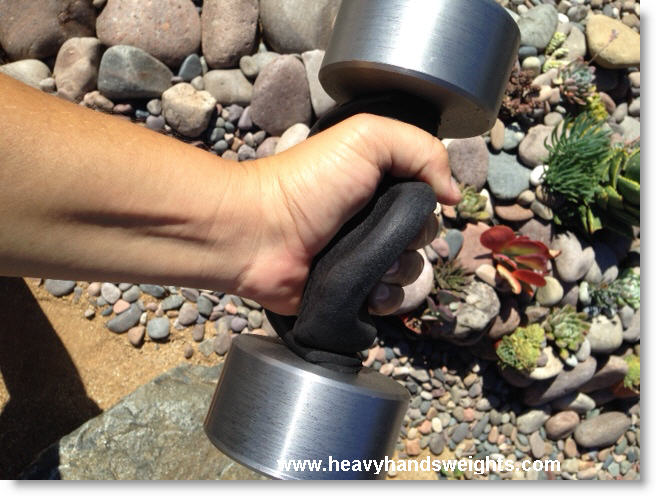 By senoff.michael@gmail.com On November 9, 2011
No Comments
You may be next…
No matter how much money you make or plan to make, you're NOTHING without your health.
Go to
http://www.hardtofindseminars.com/Dr_Michael_Ozner_Interview.htm
The Heart Attack Grill® is a hospital themed restaurant in Chandler Arizona, which has become internationally famous for embracing and promoting an unhealthy diet of incredibly large hamburgers.
The Quadruple Bypass Burger® has been quoted by the media at around 8,000 calories!
The menu names imply coronary artery bypass surgery, and refer to the danger of developing atherosclerosis from the food's high proportion of saturated fat and excessive caloric content.
One of the restaurants most celebrated (and widely publicized) gimmicks is the free wheelchair service provided to those "patients" who successfully finish the Quadruple Bypass Burger®.
And they think it's funny.
Ask Dr. Michael Ozner what he think about this restaurant and he won't be laughing.
Because having heart disease is drop dead ugly . . .
And heart disease can happen to you.
In fact, it's the number one killer for both men and women.
While scientists used to believe the disease was caused by clogged pipes, they now know "plaques" form in the arteries from lifestyle choices like fatty diets and lack of exercise.
If one of those plaques becomes inflamed, it can rupture with little warning, causing a heart attack.
So in this interview, you'll hear all about heart disease and the ways to prevent it.
Dr. Michael Ozner, a cardiologist and author of "The Great American Heart Hoax: Lifesaving Advice Your Doctor Should Tell You About Heart Disease (But Probably Never Will)."
Dr. Michael Ozner is an award-winning, nationally renowned pioneer in the field of preventive cardiology; a sought-after keynote speaker; and a top-selling author.
According to Dr. Michael Ozner, there is hope for those of us who lead relatively sedentary "fast-food" lives. In fact, it's probably easier (and less painful) than you think to prevent heart disease. And in this audio, you'll hear all about it.
You'll Also Learn . . .
* A delicious way to lower your risk of heart attack, stroke.
* How a processed diet wreaks havoc on our bodies
* Why Dr. Ozner says our government has let us down
* How much exercise do you really need
* The forgotten risk factor in heart disease
* And much more
According to Dr. Ozner, you don't need to bombard yourself with medications in order to lower cholesterol and prevent heart disease.
Simple lifestyle changes can be started today that will help to get you on the right track, and this audio is a great first step.
PS. Don't even think about going near The Heart Attack Grill® or you know what could happen.
Go to
http://www.hardtofindseminars.com/Dr_Michael_Ozner_Interview.htm
There's nothing funny about heart disease, stints and poor health.
Now you have some information to do something about it.
About the Author
Michael Senoff is the CEO and publisher of
http://www.hardtofindseminars.com The world's leading free digital
audio business library.
Michael is an experienced Internet marketer and talk show host and
a popular professional interviewer. Michael has taught 100% on line
around the country & around the world to more than 50,000 students.
His over-the-top on line audio interview web site
http://www.hardtofindseminars.com is listed in the top 1% of most
visited web sites in the world.
Michael has also worked as a coach and adviser to other famous
marketing consultants.
Michael is a husband and father of two young boys in Southern
California. He has a successful audio publishing business. Michael
is originally from Atlanta Georgia and is now based in San Diego,
California. Michael works with small to medium sized companies on
four different continents.
He is the author of the book: "TALK YOURSELF RICH": (86 of the most
revealing, proprietary secrets on the subject of how to make more
money with audio interviews and the soon to be released sequel:
AUDIO MARKETING SECRETS. How To Make Your Own Information Product
Using Audio Interviews.  Michael may be contacted at
Michael@Michelson.com or at (858) 274-7851